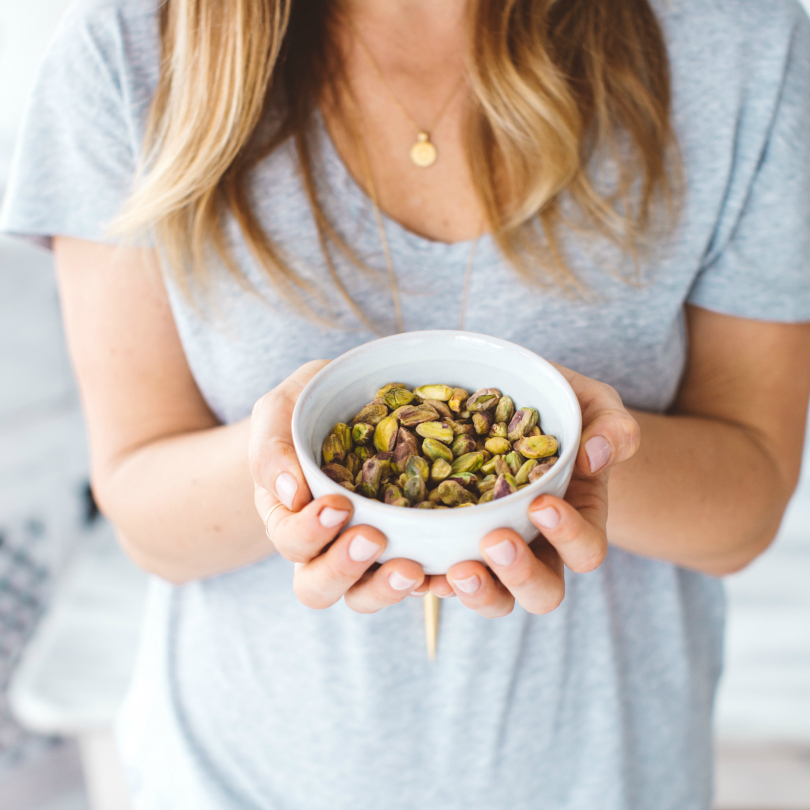 Healthy Travel:
I get that staying healthy on the road can be challenging, but with a little planning and prep, it's actually pretty easy. Here is what I did to prepare and what I am bringing with me in my carry on, plus some additional ideas, to stay healthy as I make the 22 hour journey door to door from the Channel Islands to the Connecticut.
Prep the day before:
– Green smoothie: put all your ingredients in the blender, except for the liquid and store in the fridge overnight in the blender container. In the morning, add liquid and blend. Drink on the way to the airport. I made a green smoothie with lots of greens at 5:30am and drank it on the way to the airport at 5:45am. I wasn't really hungry when I woke up, but knowing I might not get much in terms of greens whilst traveling motivated me to drink it and at least start my day right.
– Chia pudding: this is a perfect breakfast for on the road and it doesn't count as a liquid so you can bring it on the plane with you! I put my chia, liquid and some cut up fruit in a container and let it sit overnight- this is key. It needs to soak overnight so it's no longer liquid. I packed it in my carry on in the morning and brought it on the plane. Tip: pack it in a sealable bag too, in case it leaks!
– Frittata: I made a frittata with some veg I wanted to use up the in the fridge. I like that I got to use up some veggies before going away and make my lunch at the same time. I wrapped up half the frittata to take with me, the other half I gave to a friend. I also cut up a red pepper and ate that along with my frittata at the airport for lunch. To make a frittata try my recipe here. You can also just hard boil some eggs, peel them and put them in a plastic bag with some salt to eat on the road.
Bring with you:
– Tea bags: this time I packed a few of my favorite tea bags and my travel mug. On the plane I asked them to fill my mug with hot water and they did, no problem. I loved that I got to enjoy my favorite tea in a decent size mug- the little plastic cups on the plane that are like 2 sips of tea are so annoying, I want more than 2 sips!
– Trail mix: Throw your favorite mix in a bag and bring it along for movie snacking. In my mix I put: pecans, walnuts, almonds, sunflower seeds, pumpkin seeds, dried coconut, goji berries and cacao nibs.
– Something sweet: I like to pack a little something sweet, so if I feel like something, I've got a healthy option. It's really difficult to find a healthy treat at the airport! I packed: 1 Raw chocolate bar, and 2 dates.
– Greens powder: I like to travel with little sachets of greens super foods. It means if I don't have any other greens during the day, at least I can add these to some water, coconut water or a smoothie to get some green goodness in.
– Smoothie packs, like these vega ones. That you can just add to water.
– Raw crackers, tortilla or kale chips: I threw some raw tortilla chips in my bag in case I wanted something savory. I like to be prepared. I have no idea what I am going to want, so I bring a bit of everything- something salty and something sweet. I'm probably not going to eat it all on the plane, which means I have leftovers for during my travels or the journey back.
– Nut butter squeeze packs are perfect for travel like ones by Justin's or Pip and Nut.
Non Food items I pack in my carry on:
– Lotion: love this Weleda one, called Skin Food. I put it on my face and hands in flight. I tend to travel pretty makeup free so I can apply lotion to my face in flight.
– Lip balm: to avoid dry lips and chapping, something all natural is best like this Weleda one. I don't normally use lip balm, but find in flight it's nice to have.
– This scarf: I love that it acts as a scarf, shawl, wrap and blanket in one. Plus it's super soft. You can buy it here and check out the video on 10 ways to wear it!
– Tissues and hand wipes: they also act as a napkin and I usually spill.
– Probiotics: I don't leave home without them, I increase my dosage a few days before travelling and after. Sickness be gone!
Healthy finds at the airport:
– Water: I stock up on 2 litres for long haul plane rides and drink it all during the flight.
– Green tea – most cafes serve green tea. You can get them to fill up your travel mug for you.
– Coconut water: places like EAT and Pret stock it.
– Smoothies: I have found fresh green smoothies and juices at EAT and Pret, I'm not so keen on the premade ones that last for ages in the bottle.
– Salads: grab a salad for the plane to snack on if you didn't have time to prep food at home before leaving. Pret also does little pots with spinach and hard boiled eggs which make a great snack.
– Kale Chips: You can pick these up at Pret.
– I also try to be organized and order a special meal on the plane- usually the one without dairy or meat, just because I don't think the airlines use organic or good quality animal protein, but most of the time I try to be organised enough so that I can completely avoid plane food.
If you have anything that you swear by when you travel, share it with me! I'd love to hear and maybe it will be in my carry on next time I fly. Tell me at: jenn@jmoorehealth.com