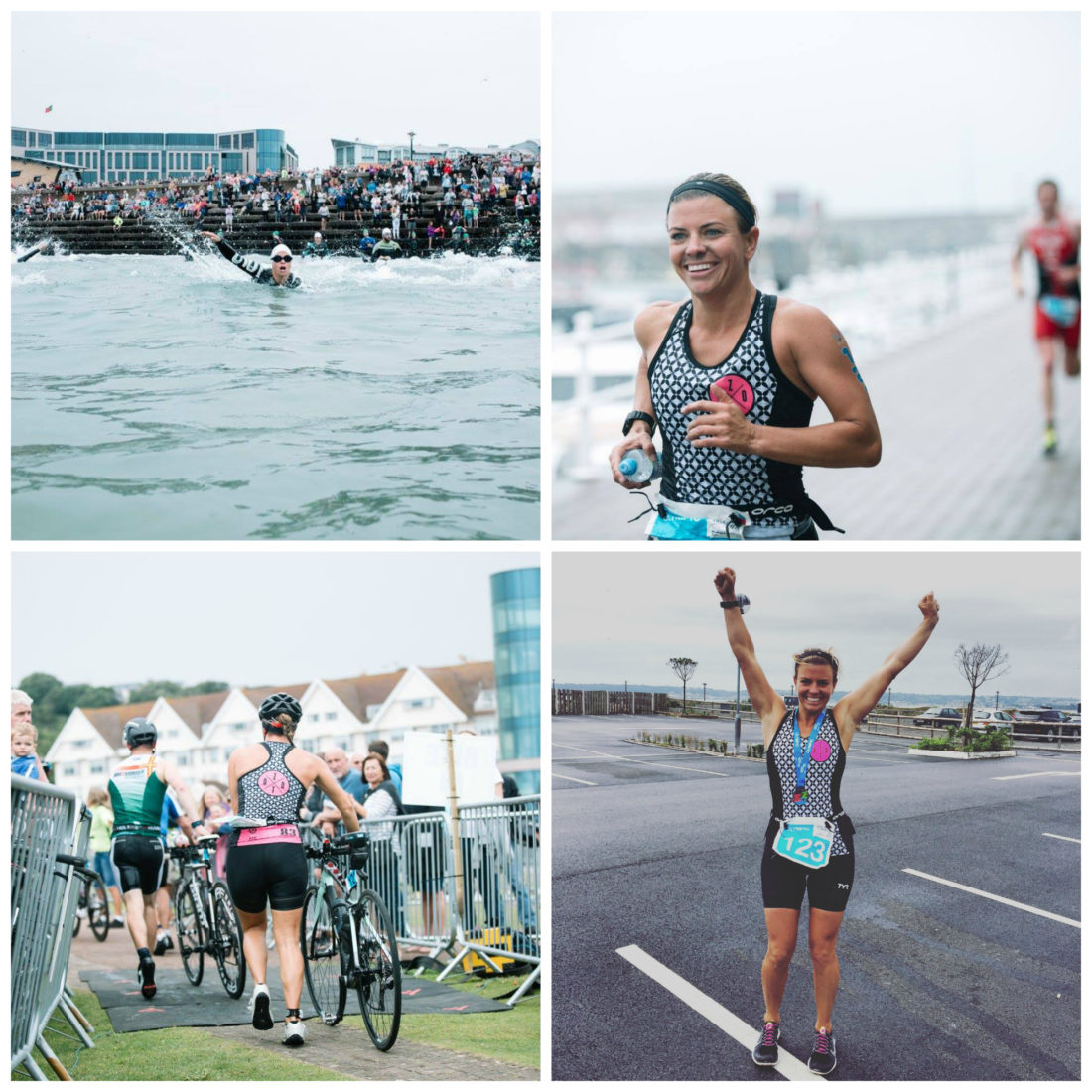 Triathlon Curious? Complete Beginners Guide.
Thinking about doing a triathlon or you've already signed up? Now are you thinking, "Crap, what the heck have I done!?!" Or aren't sure where to start? Well…welcome, you are in the right place! I just did my first Olympic Distance Triathlon (1600m swim, 40km bike, 10km run) and despite falling off my bike on a hairpin turn on the wet road (it was pouring), my chain coming off and getting a good dose of road rash, I absolutely loved it! I am now training for my first half Ironman (Ironman70.3) in Santa Cruz, California on September 11th and first full Ironman in Barcelona on October 2nd. I started this journey clueless, so let me share with you what I have learned so far and all the answers to those questions that seem really silly, but they aren't. Believe me- I've asked them all! I hope this helps! Questions? Send me a message.
Let me start off by saying that I am by no means an expert. Anything that I mention that I'm using in this post, is just what I've found has worked for me, but you might be different, and I am not making money off of any of the mentioned products in this post. I am only sharing what I have learned so far either thru my experience, reading or pestering my coach with a million questions. Speaking of coaches, that's where I started. I had no idea how to train for an Ironman70.3 which was the first race I signed up for. So I hired a coach. I didn't want to just buy a training plan online or follow one I found on the internet, because, well I had a million questions and I wanted a real person with triathlon experience I could grill with all my questions. Enter Sam. Sam is my amazing coach from Transition, without her I would be lost in the this unfamiliar triathlon world. Each week, Sam posts my daily workouts in training app where I can keep her posted with my workouts, how they go and any questions I have. Having her and the app to keep me accountable was really the only thing keeping me training when I started and resisted against everything, including myself- you read about how I got out of my own way here. If I were only following a plan I downloaded from the internet, there is no way I would have gone for 2 hour bike rides in the pouring rain at 5:30am before getting an 8:00am flight. But, having to check in with my coach, that got my butt out of bed! I guess the good news is, wherever you are in the world, you can hire Sam to work with you and get you ready for whatever your next race is, because it's all done online.
Let's talk about reasons why you should and shouldn't do a triathlon…or any kind of race for that matter.
The number one reason NOT to do a race is to lose weight. I repeat…don't sign up to do a triathlon because you want to lose weight. Why? Because you might not lose a single pound. I ran the London marathon a few years ago and whilst I got better, faster and stronger at running, I didn't lose any weight. I was hungry ALL the time from all the training, that I was eating like a horse. Don't do it for weight loss. It won't be enough of a motivating factor to get you through when you don't want to train, or run any further or are suffering on race day.
But, do sign up for a triathlon if you want to:
Challenge yourself physically, mentally and emotionally. Yup, it's not just physical. The biggest challenge and struggle will happen between your ears. I really struggled with this in the beginning and wrote about it here.
You need motivation. Setting a goal to train towards is amazing. I can't train just for the sake of training, it's not going to get me out in bad conditions or when I am tired. But, having a race date in sight that I don't want to be dying during in is motivation enough.
You want to break down your own limiting beliefs and barriers. You will surprise yourself with how much you are capable of and how strong you are. It is still something I deal with each time I set out on a training session that is longer than anything I have done to date- that voice of self doubt comes to play. But it gets quieter each time I surprise myself completing a long training session and I am learning that I am capable than more than I think.
You want to be more productive. When you are training, especially if you are busy, you will have to be really organised with your time to make sure you get your training in. It will make you more productive in other areas of your life too because you won't have time to mess about.
How I got started: I started this journey last summer when I did a super sprint triathlon for fun. I did it, I came in first for the women and I said I was done and wouldn't be doing any more tri's again. I remember watching the Olympic Tri participants cross the finish line last year, thinking there is no chance I could do that for close to 3 hours! So 6 months passed and I forgot all about triathlons thinking I had closed that mini chapter in my life. Then this winter, my sister signed up for a half Ironman and it was kinda on my list of things to do in my life- but like way down at the bottom…like last on the list of things to do in my life ha. I knew I wouldn't be motivated enough to train for one on my own, so I was tempted to do the same race as her so we could go through the training together in the long distance sense (she lives in Cali and I live in the UK). Then I watched this video. It's minutes 3-9 that had me signing up. Every time I watch this video it has me in tears- it is so emotionally moving. I'm doing these races because I get to. I GET TO. I am so damn grateful that I am healthy enough that I get to. And it's something I remind myself of every time I train. Seriously, watch the video and grab a tissue.
---
Next important thing is clothes. Obviously. So what the hell do you wear?!? I was so confused by this whole idea of swimming in a tri suit or shirt and shorts with padding under a wetsuit, but yes, it's what you wear.
Swim: You will swim in either a 1) one piece tri suit (this is a one piece bike shorts and sleeveless top- these are great because you aren't fiddling with tops riding up, but are more difficult for going to the bathroom in longer races to take-up and down and they show everything- there's no hiding in these bad boys-ha), 2) tri shorts and top or just sports bra(easier for bathroom stops in long races), or 3) maybe even a one piece swimsuit. You would wear any of these options, with or without a tri wetsuit on top depending on the water temperature where you are. Tri wetsuits are different to surf wetsuits. They will make you feel buoyant and like a seal in the water, they are awesome. A surf wetsuit will fill with water, become heavy and slow you down. Don't do it. If you don't want to buy a tri wetsuit, there are lots of online options to rent one (do a google search), even as long as the season with the option to buy at the end if you decide. So you can try and tri before you buy! Also, don't forget your goggles and swim cap. I grabbed my wetsuit on www.wiggle.co.uk, the brand is Orca, but there are tons of options out there with a range of prices- find one that works with your budget and you can always sell it on after.
Whatever you swim in, know that you will also be wearing that for the bike and the run. So you want it to be comfortable and provide enough support. Is you tri suit or top enough support to run in or maybe you need a sports bra underneath? If you are swimming in a one piece is it going to be okay to sit on the seams during the bike? Think about how you feel in all 3 disciplines when deciding what to wear and try your race day clothes in practice. Wear them, make sure they are comfy.
Bike: It was strange to me to bike in clothes I just swam in, thinking they would be soaking wet. Don't worry, they will dry fast and you won't even notice wet clothes on race day. After the swim, you will take off your wetsuit, cap and goggles and then put on your bike helmet, sunglasses, biking shoes, and race belt with number (although I swam with my race belt on under my wetsuit because it was one more thing to remember and was stressing me out.) You will also want to grab any nutrition you want for the bike and put it in your cycle top pockets. Don't swim with food in your top- it will be a soggy mess.
Run: Running shoes, sunglass, hat or visor, race belt.
I'm going to break down what I have learned about each sport and my tips and tricks. Scroll to read more to be totally prepared and learn from my mistakes…and believe me there's been plenty!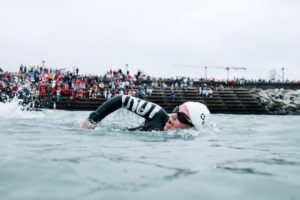 ---
SWIMMING: General tips:
-Take a swim lesson, get some coaching, or go to swim practice sessions in a pool. Refine your stroke in the pool first, get confident before you hit the sea. Even though I did swim team, lifeguarded and taught swim lessons growing up, I took some swim lessons. I wanted to have someone look at my stroke to be confident I was swimming properly and undo any bad habits I had picked up over the 20 years I hadn't been swimming laps in a pool. If you live locally, I highly recommend Leigh who works from Aquasplash. I also went to a weekly group swim training session that she ran. It was great to have a workout to follow that always pushed me more than I would have on my own. Plus it made the hour go by fast!
-Find goggles that you like and don't leak or suck your eyes out of your skull. Get two pairs in case you lose one, one breaks etc. You don't want to be stuck without on race day. Goggles I think are something that you just gotta try different styles of until you find what you like and then buy a few pairs of that style in case a pair goes missing.
-Don't get hung up on not doing alternative breathing- if you swim breathing on the same side each time, do that. Breath when you need to. Everyone is different.
-Don't let your hands cross in front of your face or nose when swimming. Arms should reach straight ahead, not on a diagonal, fingers entering the water first with the palm facing down, fingers together. There's all kinds of youtube videos on freestyle technique you can geek out on.
-Girls: think about how you are going to wear your hair on race day that can go from your cap to your helmet to running without coming undone or getting in the way of your helmet. I tend to wear mind in a ponytail that is at a good height to fit through the hole in my helmet and I braid it.
-Put coconut oil in the end of your hair before you swim to protect the ends when training. Sleep with a head full of coconut oil if hair gets really dry from sea or pool.
Pool tips:
-Buy a comfortable swim suit for pool swims, and you can also wear this under your tri wetsuit during sea swim training. I got this one from Sweaty Betty and it has been really comfy and not too much pulling on my shoulders and neck from the straps.
–Fins and paddles can be fun training accessories to mix things up in pool training, as are pull buoys and kick boards but not crucial. However, doing intervals during your training in the pool will improve your swimming and is far less boring than just swimming laps and longer periods of time. Intervals will make you stronger and faster in the water.
-Pool etiquette: when wearing fins you should go in a lane on your own during public lap swimming or in a lane with someone else wearing fins. Not in a lane with other people swimming without fins- or the lifeguard will yell at you to get out of the lane- like he did to me!
-At the pool, the lanes are labeled slow, medium, fast and will sometimes also note the direction you should swim in, clockwise or counter clockwise. Follow the direction on the sign, or when other swimmers join you in the lane, they will tell you off for swimming in the wrong direction- like they did to me.
-If you are in the fast lane and people are swimming on your toes and keep passing you, move to a slower lane, or stand to the side at the end of the lane and let them pass you.
Sea swimming tips:
-Invest in a stick of body glide. Your wetsuit will most likely chaff your neck and make you look like you have a hickey. Mine was really bad. I also had a sharp piece of glue on one of the seams by my neck that I trimmed off that helped. Do apply glide to your skin to avoid rubbing, even during training.
– Get a swim cap or two for your hair in the pool and in the sea. If the sea water is cold, double up and wear two swim caps to keep your head warm. The ice cream headache and breath shortness from cold water will go away after the first few minutes of swimming. I swear.
-If you are cold, pee in your wetsuit…and then wash your wetsuit out in the shower or in fresh water after each sea swim. I hang mine on a hanger in the shower to dry inside out. Putting on a cold wet wetsuit is the worst, but if you hang it they dry fast. Learning to swim and pee at the same time is a skill.
-Practice your sea swimming with a group or a friend. Don't sea swim alone.
-Practice sea swimming with your tri suit on under your tri wetsuit to make sure it's comfortable and fits.
-To make taking off your wetsuit faster for the transition from the swim to the bike, rub baby oil or spray Pam cooking spray on your wrists and ankles before putting on your suit on race day- experiment with this in training. Your wetsuit should just peel off with either of these.
-Every time you do a sea swim, exit the water as if it's race day and practice how you will get out of the water. Will you take your goggles off first, and put them on your head? Will you hold your cap and goggles in your hand and leave them in your wetsuit sleeve as you take your arm out so you don't lose them? Practice unzipping your suit while you run out of the water. Start running as soon as your finger tips touch the sand when you are swimming in towards shore.
---
BIKING. General tips: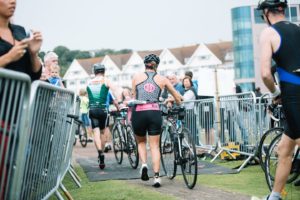 -Bikes. For my super sprint, I bought a used bike from the classified's online. It did the trick for the training and for the day. But fast forward a year and I was starting to cycle longer distances and starting to have pain in my lower back, upper back and more. So I took my bike to get fitted and in the end, even when the bike had been made as small as possible, it was just too big for me. I'm a 5ft 3inch girl on a good day, I bought the bike from like a 6ft tall 18 year old boy. The frame was just too big for me, even at it's smallest. So I decided to buy a bike since I was going to be spending some serious time on it. These days they make road bikes that are female specific- who knew! This means the frames are smaller, the handle bars are closer together- which makes sense because our shoulders probably aren't as wide as guys. I got my bike from Big Maggy's in Jersey. They were super helpful and explained so much to me because I was clueless. Rich and I went back and forth over countless emails until I made a decision. It's an investment and I wanted to make sure I was finding what was best for my needs. There are so many brands out there and bikes at so many different pice points with different features. Find what will best fit your needs and your bank account if you do need to buy a bike. And there are so many amazing used bikes going, why not start there first if you aren't ready to invest. In the end I got a Felt ZW5, because it ticked all my boxes, even though when I initially thought about buying a bike I had just assumed I would get a Cannondale because it was what I knew. I went with the Felt ZW5 because I wanted a full carbon fibre frame with decent components and I knew I didn't need disc breaks. When buying a bike, do your research, take your time and don't rush into it.
-Get fitted for your bike. Take it to a bike shop and let them fit you for a triathlon. The leg angle for a tri is different than for just riding so you can transition into the run "easier" (as if it's easy-ha). I went to see Tony Williams locally to get fitted for my bike and tri bars and he was amazing. His super informative website is here. It's a great read for tons of cycling tips and their group training sessions.
-Learn to clip in, but be prepared to fall. Everyone does. It will hurt your ego more and it will probably hurt you. It will also happen when you least expect it, in slow motion. Practicing clipping out at a moments notice, so you can do it fast when you really need too. Don't have them too tight when you are starting out.
-After the intital bruising and pain from your first couple rides and spending long periods in the saddle, the pain will go away and it won't hurt to sit on your seat anymore. However, you can also get different seats if the one that came with your bike isn't working for you. I got an ISM seat to put on my bike and it's way more comfortable for me for long rides. Big Maggy's let me test an ISM seat first, before buying it which was great.
-Your nose will run on the bike, either from cold on early morning cycles or sea water dripping out during the race. Learn to snot rocket, but always check behind you first.
-Do intervals on your bike, in addition to your long steady rides.
-Watch some youtube videos on how to ride your road bike, how to pedal, hand positions and tri bars if it's new to you.
-Practice riding in silence. You most likely won't be able to listen to music on race day. Practice training without it, see how it is without your killer tunes to motivate you and when you are left alone with just your thoughts and your mind. When things get tough and you don't have music to motivate you, give yourself a mega pep talk and dose of self love. The biggest challenge will happen between your ears. I've trained listening to podcasts too for some entertainment and am currently teaching myself Brazilian Portuguese as I ride haha. You can download free podcasts of all kinds or even an audio book on the podcast app on an iPhone and I just play it out loud on my phone from my back pocket as I ride, but I try to do at least a good chunk of my ride without anything so it won't be a shock on race day.
-Practice eating on your bike. Cut open the wrappers ahead of time so you don't have to do it on your bike. Tape snacks or gels to your bike. Put nutrition in your water bottle. If you are planning to use gels and energy drinks on race day, practice using them during training. I found I didn't like the gels or energy drinks because they left me feeling weird and thirstier than normal. I experimented with the foods and snacks that worked for me on the bike. Get confident in riding with one or even no hands so that you are happy to reach into your cycle top pockets on your back and get out food or bike with one hand while you eat. For longer distances, like a half ironman or full be sure to have enough nutrition with you during training. You can get bags that attach to your top tube like these and you can fill them with bars, sandwiches etc that you can eat while you ride. But, play with what food you can easily eat on the bike, that won't give you a cramp when you start running. Everyone is different. Mix it up, don't keep it just sweet stuff, because after a few hours you might be sick of it and after something salty-like pretzels maybe. There is a a ton of information out there on triathlon nutrition.
-Practice running off your bike to see how your legs feel. Do your bike training session, then change your shoes as you would on race day practicing this transition 2 (T2) and go for a short run. See how you feel.
-Do brick sessions.
-Practice running in your cycling shoes with your bike as you will have to run to the line where you can mount your bike during transition 1 (T1).
Gear tips:
-Get padded bike/cycling shorts for training long rides or all rides. You won't wear these on race day, but they have more padding than the tri shorts you will race in, so will be more comfortable to train in. Don't wear underwear with these, the seams will become embedded in your butt cheeks and be painful to sit on. Just wash your shorts with each use. Saddle sores are a real thing. Keep your shorts clean and not full of damp sweat. Change out of them right away after your ride.
-Get a cycle top. These usually have 2-3 pockets on the back of the shirt where you can put snacks and nutrition, or even a spare inner tube. I also keep my phone there and play music out loud when using as I don't cycle with ear phones for safety reasons. I also use the Strava app on my phone while I ride to measure my distance, speed etc. It's a great free app.
-If you are riding longer distances or you just drink a lot like me, put 2 water bottle cages on your bike. Don't get dehydrated while you ride. I like having 2 water bottles. I put water in one and an electrolyte tablet in the other bottle with water. I have been using Nuun Active electrolyte tablets, which I like because they aren't super sweet and they do a range of flavours. Speaking of electrolytes, for longer and sweaty training sessions and longer races, I've also needed to top up my salt…I sweat A LOT! I am currently playing with Hammer Endurolytes to see how I do with them.
-If you get tri bars put on your bike, get fitted properly for them so you don't hurt your neck, back, shoulders etc. There are many different styles. These can just be clipped on to any road bike to transform it into a more aerodynamic tri bike. You will use your tri or aero bars on flat stretches of road.
-Learn how to change a flat tire. You might have to do it on race day. You'll want a to have a kit in a small saddle on your bike with everything you need to change a tire- spare inner tube, tire levers and then either a mini pump or CO2 cartridges which are really easy- just practice with it first and inflator if you need it. Keep a multi tool in this bag as well. I also keep some money in my bag in case I need a taxi- ha. Big Maggy's offers a quick hour long course on bike maintenance, as well as a course on how to change a flat tire. It was a much needed refresher for me. So far I have had 2 flats in training!
-Socks are optional for race day. I don't like putting socks on wet, post swim feet so I didn't wear them on race day for my Olympic Tri, I will wear them for longer races though. But if you aren't going to race in socks, practice training without them too to make sure your cycle shoes are comfy.
-Are you attaching your bike shoes to your bike and going to strap in while your cycling? Practice this.
---
-Play with your nutrition for the run. For short distances you might not need to eat during the run, but might drink some electrolytes. For longer distances, learn what you need to eat on the bike to run without cramps and what you can eat while you run that won't give you cramps or bother your stomach.
-Learn to run without music or in silence, because again you won't have music on race day, so learn not to depend on it to motivate you.
– I had some gait analysis done because I wanted to learn to run my best. I felt like it was my weakest link and as I had injured myself marathon training 5 years ago, I decided to get some help this time around and went to see Craig Meredith at Fit2Function. He is a wealth of knowledge.
– Add interval or fartlek session to your run training, in addition to your steady runs.
Gear tips:
-Run in shoes that are comfortable for you. Don't get new shoes just for the race. Be sure to break them in during training.
– Decide: if you don't bike with socks on, will you run with socks on? If not, practice running without socks to make sure you won't get blisters.
– Maybe try elastic laces in your running shoes, so you can slip them on during race day without having to tie them.
-Wear sunglasses that won't be bouncing around on your face. Maybe you will use a running hat or visor.
-If you are doing a longer race like a full Ironman, will you change for the run or will you run in your bike shorts/ tri suit?
---
Race day:
Yes you will be nervous. It's normal. Get plenty of sleep the night before, go to bed early. Also, make sure you hydrate the day before too. Pack your race day bag the day before. Lay all your stuff out as you would at transition to check you have everything you need, don't forget to pack your extras of things like goggles and your nutrition too. Then also pack all the things you will need post race, like a change of clothes, maybe some flip flops or spare shoes that you wear to and from the race. Then it's time to put all your hard training into action. Enjoy the race, smile, have fun. You GET TO do this! (If you don't know what I mean, watch this video here, minutes 3-9 especially.
---
Resources:
Books I loved:
-Born to Run, by Christopher McDougall- a great read to inspire you to get out there and run.
-Finding Ultra, by Rich Roll- another inspiring story by a guy in his 40's who decided to turn his life around and has become an ultra athlete.
Inspiring Videos: