4 Breakfasts You Need To Eat Now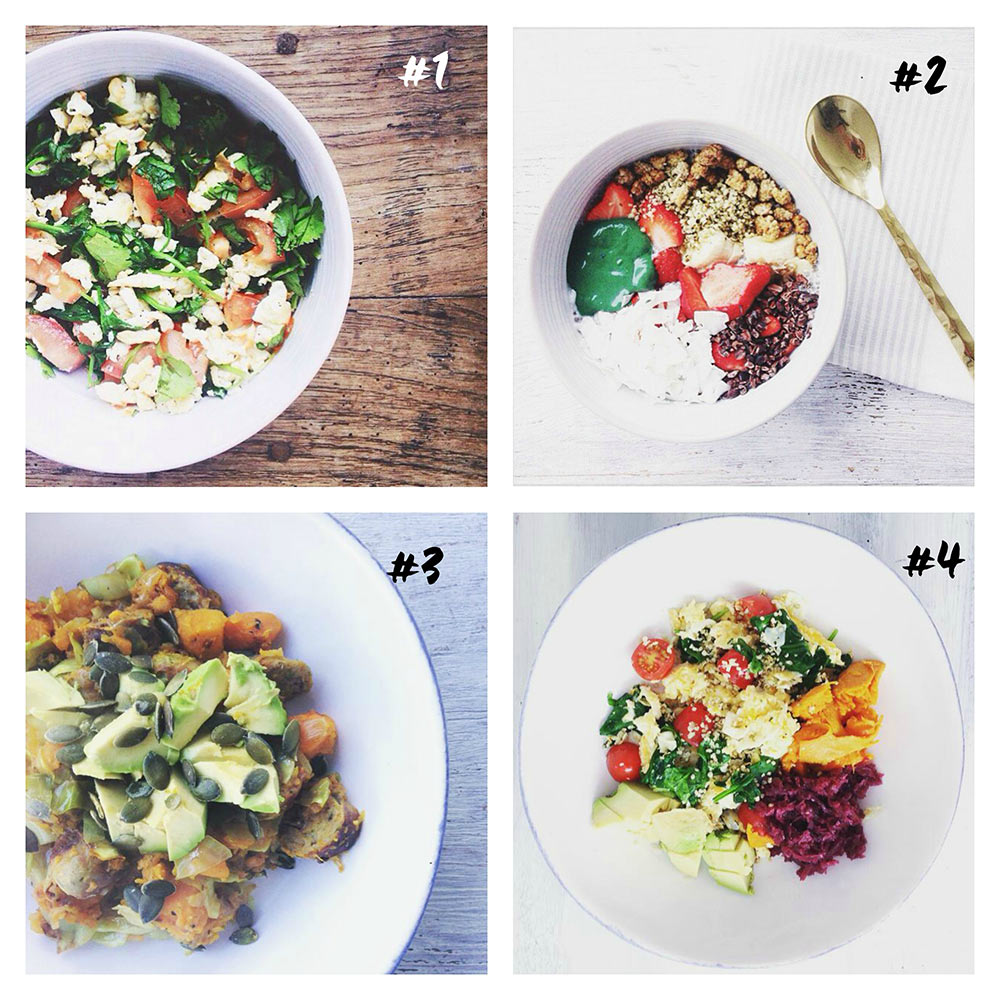 I want to share 4 breakfasts with you that will change your life. Bold statement I know, but I'm serious. These breakfasts will fill you up so you don't need to snack all morning long, give you tons of energy so you can get sh*t done and give you some serious nourishment too! Try eating these breakfasts for a week and watch what happens, then email me and tell me about your experience! You know those pesky cravings? They might just start to disappear too. I know you might not think you have time to make breakfast in the morning, but these take 5 minutes. I promise it's worth it. These recipes all serve 1.
#1: Mexican Scramble. Ingredients: 1 teaspoon coconut oil, 3 eggs, 3 handfuls baby spinach, 8 cherry tomatoes, small handful corriander/cilantro, hot sauce. Directions: heat coconut oil in the pan, crack your 3 eggs straight into the pan, and scramble for 30 seconds. Add you tomatoes and spinach and continue to scramble until spinach is completely wilted. Add a sprinkle of sea salt and fresh black pepper. Throw it in a bowl, top with corriander and hot sauce if you like it. If you really like spicy- add a chopped chilli peper when scrambling. You could also scramble some black beans and corn into this mix. I'd eat this for any meal…as I would for all of these recipes.
#2: Chia Superfood Bowl. Ingredients: 4 Tablespoons of chia seeds, 1.5 cups liquid- could be water or your fav nut milk, toppings: berries, seeds, cacao nibs, and coconut flakes. I used chia made with water, strawberries, a quarter of a banana, cacao nibs, hemp seeds, dried mulberries, coconut flakes and spirulina sauce. Make your chia the night before- in a container mix together the chia and liquid of choice and let sit overnight in fridge, covered. In the morning, scoop out half of the chia mixture, and add your toppings. Safe the other half for snacks or tomorrows breakfast.
#3: Sweet Potato Hash. Ingredients: 1/2 leftover baked sweet potato chopped small, 1 sausage sliced (ideally free range, organic and gluten free sausage – could be chicken or turkey sausage too or bacon or chorizo would also work. I don't love veggie sausages because the ingredient list is always a mile long and full of weird stuff, so just leave it out if you're a veggie), 1/4 avocado, 1/4 yellow onion chopped small, 1 clove of garlic minced, 2 eggs, 1 handful of baby spinach, 1 teaspon of coconut oil. Directions: Heat the coconut oil in a pan, add the onion to the pan and cook for 3 minutes until soft. Add the garlic, sweet potato, sausage and spinach, cook for 2 minutes to heat thru. Spread the ingredients towards the edges of the pan so there is a hole in the center, crack the eggs into this space. Cook for 1 minute and then scramble eggs into the rest of the ingredients until completely cooked. Season with sea salt and black pepper and top with avocado. Another one thats great for dinner too. To save time use a precooked sweet potato and sausage – you can even chop the sweet potato and sausage in advance and cook the onions ahead of time and mix together with sausage and sweet potato too, so that in the morning you are just reheating.
#4 Green Eggs Makeover. Ingredients: 1 teaspoon coconut oil, 3 eggs, 3 handfuls of baby spinach, kale or cabbage (chop kale and cabbage small), 8 halved cherry tomatoes or sliced mushrooms would work well too, half a baked sweet potato, 1/4 avocado, 2 tablespoons sauerkraut, hot sauce. Directions: Heat coconut oil in a large pan. Scramble your eggs, tomatoes and or mushrooms and spinach together in the pan until cooked and spinach is wilted, season with sea salt and black pepper. Serve with a side of chopped sweet potato, avocado and sauerkraut. Top with hot sauce if you want. So good, all day, any day.
Happy breakfast eating! Get the full recipes in my Free 21 Healthy Breakfast Recipes Ebook.